Millar Vietnam Adventure: Part I, Ho Chi Minh City (HCMC) and The Mekong Delta
Monday, March 21, 2016: New York City to Tokyo
The seat belt sign was on and our captain announced that "we are preparing for take-off." Moments later, the Bowing 747 was airborne and the Millar Family Adventure to Vietnam had officially begun. This leg of the trip took Molly (7), Wyatt (9), Anne. and I approximately 6700 miles from New York City to Tokyo, Japan.
Tuesday, March 22, 2016: Tokyo to Ho Chi Minh City
Fourteen hours after taking off in NYC we arrived into Tokyo, Japan's Narita Airport. It felt good to stretch our legs and have more space to move. After a two hour layover we boarded a flight from Tokyo to Ho Chi Minh City. Six hours and 2,600 miles later we were on the ground. In a blur we traversed baggage claim, visa confirmation, immigration, customs, money exchange, and, finally, a taxi to the Historic Rex Hotel in city central Saigon or Ho Chi Minh City at midnight.
Wednesday, March 23, 2016: Ho Chi Minh City
Our first day in Vietnam was a "recovery day." We spent the day resting and exploring the city via the Ben Thanh Market and having our first tastes of Vietnam with pho and sushi. It was nice to have a break from the bustle of the city at the rooftop pool. We completed our first full day in Vietnam with a family dinner at the Rex Hotel and an early bed night.
Thursday, March 24, 2016: Ho Chi Minh City to Vung Liem
At 08.30 am we were packed up and in the hotel lobby. We were all a little jittery with anticipation and excited for this next stage of our adventure. Soon we met our guide Truong, but Ted to us, and boarded our mini-van. Our driver safely navigated the chaotic streets of Ho Chi Minh City where motor bikes outnumber cars 100 to 1 and traffic laws are just a mere suggestion. As we travelled to the outskirts of Ho Chi Minh City's urban sprawl and into the countryside, we passed miles and miles of rice fields scarred black from the annual burning of the rice fields in preparation for next season's crop that will come with the rainy season in May to late October.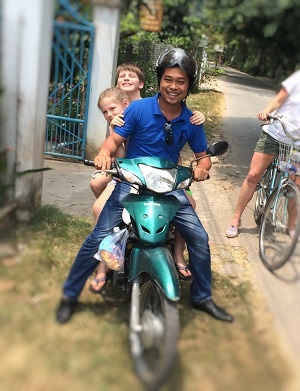 During this journey we got to know Ted, who would serve as our guide, interpreter, and new friend for the next four days. Ted, in his early 30's, has an engaging character with a bubbly personality and an easy smile. He splits his time between teaching English at an International English School and being a tour guide in the country he loves. Ted was a treasure trove of helpful information about Vietnamese culture and history, and he was there for us at every meal to help us order and understand Vietnamese customs. Ted understood that our pace of travel needed to be flexible and fun with young kids in tow.
After a three hour van ride with a stop at a tourist-y cultural rest stop we arrived in the rural river region of Vung Liem. As we stretched our travel weary limbs our bags were loaded onto a motorbike taxi and we were instructed to follow Ted down a dirt path into the jungle of fruit trees. A short 10 minute walk took us to the Coco River Lodge, our new home for the next three nights.
We met the lodge's owner and our host, Hieu Le, and his fantastic staff (all related to Hieu). They took us to our river front "Turtle Bungalow" (Molly was excited about the hammock at the river's edge) and then served us a delicious traditional lunch in the lodge's restaurant, a thatch covered area with three tables, a small kitchen area, and space for Ted or others to sleep.
After lunch we took some time to get settled in our bungalow before meeting Ted and Hieu to visit a pop rice factory. Here we met Mr. Cong (Duc) and his family who showed us their unique blend of traditional and modern agricultural methods that sustain the local village. Mr Cong's family home was rustic and primitive by American standards, but he was kind and it was clear his family were content and had all they needed for a full life. After explaining how the animals are raised and showing us how they collect 'biogas' to make free and sustainable cooking food, he revealed the secret of making 'rice pop.' This unique and nutritious foodstuff was tasty (sort of like a rice-crispy treat with ginger flavour) to be a gift for local children the following day at our elementary school visit. Learning how to make "rice pop" was fun, but being welcomed into his family home and playing with his granddaughter was the highlight of this experience.
Later that afternoon we returned to the lodge and selected bicycles for an early evening / sunset cycling tour. Kid's bikes were unavailable so Molly and Wyatt doubled up with me and Ted. We peddled on dirt trails towards quiet village roads passing a duck farm, dragon fruit gardens, and a coconut fabric mattress making factory. The cycle continued through rice paddy and sedge fields with villagers and children waving at us from their homes yelling "xin chao" (pronounced "sin chow"), which means "hello" in Vietnamese. We travelled at a relaxing pace which seemed to match the pace of rural life in this part of the Mekong Delta. We enjoyed the beautiful sunset before returning to the lodge.
That evening we capped the long day with a Vietnamese cooking class where the lodge's kitchen staff showed us how the locals prepare Banh Xeo, a traditional meal. It was a great learning experience (especially for Wyatt and Molly) and we enjoyed a peaceful meal followed by a sound night's sleep.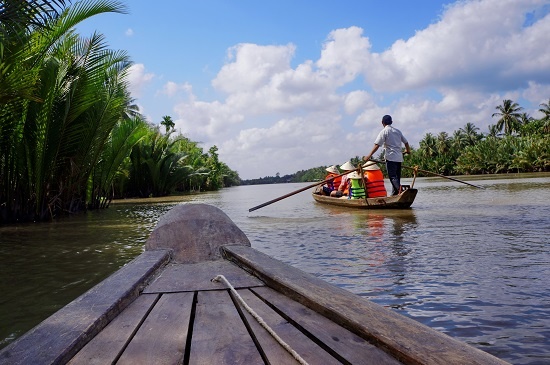 Friday, March 25, 2016: Vung Liem and the Coco River Lodge
We woke early the next morning to the sound of boat traffic on the river. After breakfast, we donned life jackets and traditional Vietnamese straw hats and boarded a long wooden boat. With our trusty oarsman at the helm, we travelled downriver again at a pace that seemed to match the lifestyle of these fascinating people. Our first stop was to the Chua Xu temple where locals and visitors from other provinces come to pray. The Chua Xu temple is more than 200 years old and very ornate. We were welcomed with tea and local fruit from the caretaker of the temple.
Next we walked to a local elementary school where we were welcomed into a 3rd grade classroom. After introducing ourselves we shared the 'pop rice' we created yesterday with the very excited students. These interactions with the local students, their attempts to speak English, and the smiles of delight with the "rice pop" was the highlight of our day.
Saturday, March 26, 2016: Vung Liem – Sa Dec - Bang Lang Stork Garden – Long Xuyen City
Again waking to noisy river traffic, we broke our fast on the banks of the Mekong River gazing at boats motoring by laden with cargo and building materials. We quickly packed our bags and said our goodbyes to the Coco River Lodge's staff and departed Vung Liem. We traveled to Sa Dec to visit bonsai and flower gardens, and the ancient house of Huynh Thuy Le, it means the ancient house of Mr Huynh Thuy Le - a rich Chinese Vietnamese . He is a vietnamese but originally his ancestors from China. This is where the French Film "The Lover" was filmed in 1992.
The heat was sweltering as we continued our journey by road and river ferry to the small city of Long Xuyen stopping along the way to visit the Bang Lang Stork Sanctuary. That evening Ted had the night off and we dined at a local family restaurant where no one spoke a word of English. Ordering food was an adventure and soon became a group effort as we visited other patrons' tables pointing at food we liked. Laughter is certainly a world language!
Sunday, March 27, 2016: Long Xuyen Market – floating market – Tiger Island - Ho Chi Minh City
After breakfast at the hotel Ted joined us and led us a on a tour of the local market that was surprisingly busy for 8am on a Sunday morning. Ted explained that most cities have supermarkets and all cities and small towns have local markets and butchers and bakeries. As we ambled through the busy market our senses were assaulted by smells and colors, as well as stares and smiles from the locals, who were not used to seeing westerners in their market.
From there we boarded a long thin motorboat with a small tourist group from Hong Kong. The boat cruise took us upriver past the street market to the Long Xuyen floating market - one of the busiest and bustling floating markets in the Mekong Delta with hundreds of small boats barging and jostling for space as owners attempt to sell their goods wholesale. These vessels seemed ancient and barely river-worthy to our western eyes, but they were home to these families whose lives and livelihoods were deeply connected to the river.
After the market, we visited a small, family run fish farm. Then our boat took us to Tiger Island where we picked up bikes and followed "motor bike roads" (not big enough for a car) through small villages filled with orchards. On one stop we visited a family making incense. single person produces 2,000 incense sticks a day and earn about $2 to $5 perday. We also visited the Tiger Temple and learned the legend of Tiger Island.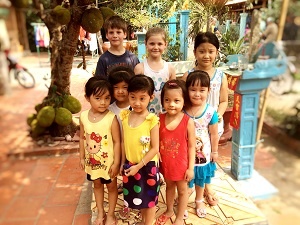 Next we visited a large riverisde park with huge mature trees that provided welcome shade in the tropical heat. As we entered the park we noticed a group of about 40 middle school students all dressed alike in black Adidas shirts. When they saw us they excitedly ran towards our family begging to take "selfies" with us. Each of us was mobbed by eager teenagers jostling to get a photo with us. Ted explained that not many westerners visit Tiger Island. The day was hot and humid at about 95 degrees, but we were so taken by the encounter with the energetic teens that we barely noticed the tropical heat.
We had a similar "celebrity-like experience" an hour later as we were biking towards the ferry terminal. A wedding party arrived at the park as we were leaving. In the sweltering heat we were again swamped by excited Vietnamese people with selfie sticks who begged for each of us to take selfies with them. Posing with the bride and groom, grandparents, and others in the wedding party was certainly a highlight of the Tiger Island visit.
Soon we boarded passenger ferry which delivered us back to the mainland where we met our driver and van. From there we began a five hour journey back to Ho Chi Minh City and the Tan Son Nhat International Airport. As we travelled east away from the magic of the Mekong River Delta on jam packed rough roads and multiple river ferries we had time to reflect on the experiences of the past four days.
I find that one of the most interesting things about traveling is that travel takes time. Having time allows you the space to reflect on your experiences and eases the transitions of time and space in life from one spot to another. Getting to experience the people and culture, and the tastes and textures of the Mekong River Delta with Molly (7) and Wyatt (9) and Anne was an inspirational experience.
International travel (including multiple trips to Thailand and Nepal) helped to define my life in my 20's. That passion for travel was put on hold for much of my 30's as we raised our young family and established ourselves with Stone Mountain Adventures Teen Summer Camp. To return to Southeast Asia now with my family in my 40's is truly a dream come true and feels like life coming full circle in meaningful way.
Four days and many adventures after meeting our guide Ted at the Rex Hotel, our van pulled into the Domestic Departures area of Tan Son Nhat International Airport. After one final group selfie with Ted and a quick goodbye, we entered the ticketing area of the airport.
The next stage of our Vietnam adventure involved traveling north to the city of Da Nang, a beach hotel in Hoi An and a Millar family encounter… look for a blog post about that part of our adventure next week!
Mountain Biking Teen Summer Camp