---
The Wait is Over: the Third Session Slideshow is finally here!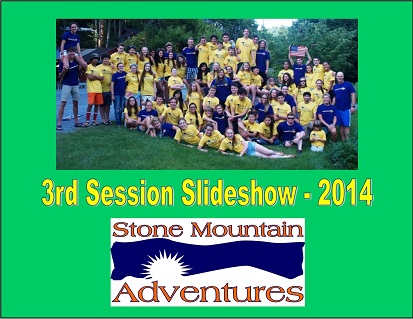 Third Session of Stone Mountain Adventures wakeboarding teen summer camp began on Monday, July 21st after much anticipation by parents and campers. Everyone was excited to have third session finally here!
All session we took pictures of campers and staff on activities (white water rafting, wakeboarding, art studio, etc.), doing creative art activities, participating in evening activities (Jud Games, yea!) and hanging around camp with friends. We gathered the best of these photos, added a summer soundtrack, and put together a slideshow that really captures the crazy, silly, amazing, magical moments of each session.
Session 4 slideshow will be uploaded in the days to come!
---
---
So here it is, the official slideshow of Stone Mountain Adventures Teen Summer Camp's Third Session of 2014!
Many of these photos are also available to download at Photobucket.com.
---
Mathilde
This was my 5th session at Stone Mountain, and here is what I've realized: it gets better each and every time. The first time you go through Candlelight Meetings, the Invention Convention, White Water Rafting and the Talent Show it's amazing. As I come back every year and do all these things again and again it's still as amazing as it was that first session in 2012. I love this group so much, and I love everything about this place that even the van rides make me smile. I love everyone here and this place so much that I am already excited for next summer - #YOLOSWAG! P.S. I love T-Money.
Arianna
Session 3 of 2014 was my first session ever at Stone Mountain Adventures teen overnight summer camp. Coming here I did not know anyone who went here, and I had just come by it on a whim while on the internet. I left the SMA Webpage open, and the next thing I knew my mom was sending in my information. I wasn't ecstatic that she was making me go to a sleep away camp in the middle of nowhere Pennsylvania, but I went. When I first arrived I was extremely nervous and scared. However, as the days went on I bonded with counselors and campers. I'm actually really grateful for coming here because I met some amazing people like Lydia, T-Money, Daniel, Olivia B., Hot Sauce and Katie (both the counselor and the camper) just to name a few. It's sad that a lot of the friends I made here live hours away from me, however I'm hoping that I can still keep in touch with them. I will definitely be coming back next year, and I hope that I can be a counselor here someday. #YAAAS #SeeYouNextYearSMA
Daniel
SMA teen camp has its own aura, community and joy. The people make the camp seem like it is living and breathing, and once you have arrived here SMA becomes a part of you. I have been coming here for two years now and I can definitely say that this camp has changed me enormously. When I arrived here two years ago I was overwhelmed with a huge welcoming party. I was invited into everything and felt at home almost immediately. The environment of chaotic joy has made me a much more open and talkative person. The small size of the camp ensures you feel part of a community, and some of the friends I made this year and last I now consider family. I will always remember the amazing memories I had made here at this truly amazing and special place.
---