How to Choose Horseback Riding Summer Camps
If you have a child who loves to ride horses then having them attend a summer camp can be a
great to spend part of their summer. Whether your child is a beginner or an experienced rider there is a horseback riding summer camp out there for them. For kids who are inexperienced but excited to learn, attending a horseback riding camp is a fantastic way for them to: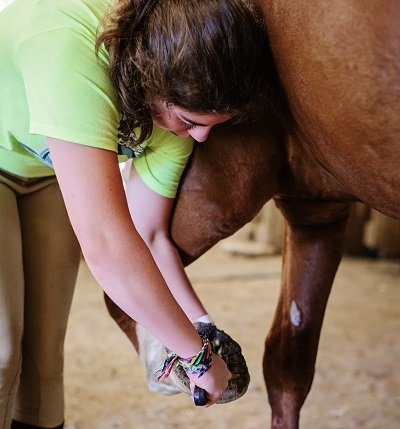 Hang out with kids who love horses

Learn horse-care and barn safety in a controlled environment

Gain horseback riding skills and experiences

Discover whether riding horses is something they want to do more of when they return home
For experienced riders who already take lessons at home and may even lease or own a horse, attending an equestrian summer camp gives them the opportunity to:
Be where they want to be - in the barn around horses everyday

Spend time with other campers who are passionate about riding horses

Take small group or individual riding lessons everyday

Be mentored by knowledgeable horseback riding instructors who are great role models
---
Day Camp or Overnight Camp?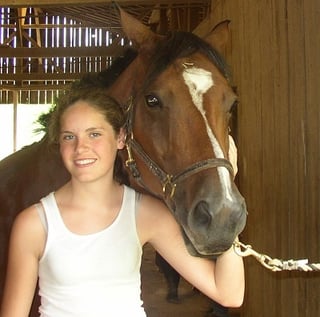 Summer Camps are generally split into two categories: Day Camps and Overnight Camps. As the name suggests, Day Camps operate during the day and campers go home each evening. Some Day Camps are all day while others are just a half day either in the morning or the afternoon. Some day camps provide transportation or parents must drop off and pick up their child each day.
At Overnight Summer Camps (also known as Resident Summer Camps or Sleepaway Summer Camps) campers stay at camp for the full summer camp session, often one to nine weeks in length. Some Resident Summer Camps focus solely on riding while others offer a variety of other activities for campers to choose from.
---
Co-ed Summer Camp or Single Gender Camp?
Another aspect to consider is whether you think your child will thrive better in a co-ed summer camp or a single gender camp. There are benefits and potential negatives to both styles of camps and it really comes down to what you think is best for your child. At co-ed camps campers are separated by gender in cabins for sleeping and occasionally by activity such as swimming.
---
What Equestrian Discipline or Riding Style Does the Camp Offer?
There are many styles of riding offered at horseback riding summer camps. It's important to choose a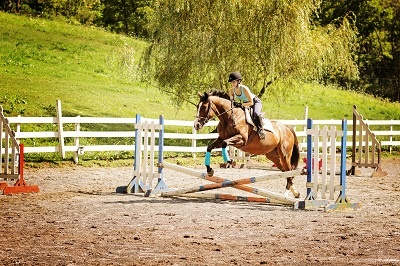 summer camp that matches your child's interests. The Equestrian Disciplines or Riding Styles that are offered at summer camps include:
English Riding

Western Riding

Dressage

Trail Rides

Show Jumping

Cross Country Riding

Eventing

Rodeo

Barrel Racing
---
What Level of Instruction is Offered?
It is important to consider you child's level of interest in horses. Is your child interested in and excited about horses? Does he/she want to learn more and is your child passionate about riding and all things "horsey"? Summer camps that offer horseback riding generally fall into three categories:
1) A Summer Camp where casual horseback riding lessons or trail rides are one of many general activities offered.
2) A Summer Camp that offers campers who are passionate about horseback riding a Specialized Horseback Riding program usually for half of the day. The other part of the day riders choose traditional camp activities.

3) An Intensive Horseback Riding Summer Camp where riding horses

is the main focus of the camp and all

the other activities are secondary.
---
Are the Horses Leased or Owned by the Camp?
Most camps by nature have seasonal facilities while others run programming year round. It's important to inquire as to whether the camp owns their horses or whether they are leased from another facility for the summer months.
---
How Experienced are the Instructors?
The horseback riding instructors and the barn staff are the ones who are going to be interacting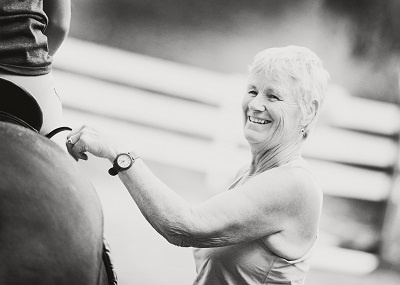 with your child everyday at camp. When you speak to the camp director be sure to inquire about the following things:
Minimum age of the riding instructors and barn staff

Background/experience of the staff in instructing horseback riding

Does the camp conduct background checks on their staff?

Are the staff CPR and First Aid Certified?

How extensive is the pre-camp staff training?

What measures are taken to ensure camper safety in the barn?
---
What Special Riding Equipment Does Your Child Need to Bring to Camp?
Another thing to consider is what special horseback riding equipment does your child need to bring with them to camp. Special equipment may include:
Horseback Riding Helmets

Riding Boots

Riding Pants or "Breeches"

Chaps and/or Half Chaps

Gloves
---
What Other Activities Does the Camp Offer?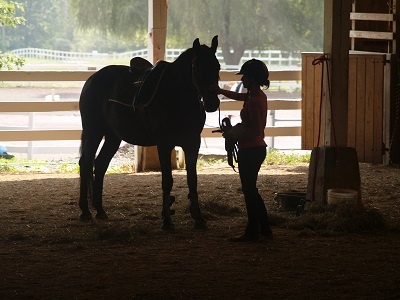 Many camps offer other activities for campers to participate in when they are not riding. These may include:
It's important that the summer camp you choose offers other activities that your child has interest in.
---