This is Jud Millar from Stone Mountain Adventures. I can hardly believe that 2014 is coming to an end. As I take a moment to look back and reflect on the past 12 months, I am overwhelmed by the amount of love and positive energy that was created in and around Stone Mountain Adventures.
2014 was a banner year from SMA Teen Summer Camp as we made some minor, but meaningful, changes while keeping the core values of SMA. The mission of Stone Mountain Adventures continues to be "To provide growth experiences for teenagers through outdoor adventure activities and the cooperative group experience while having fun every day."
January and February of 2014 at SMA non-competitive summer camp was highlighted by severe winter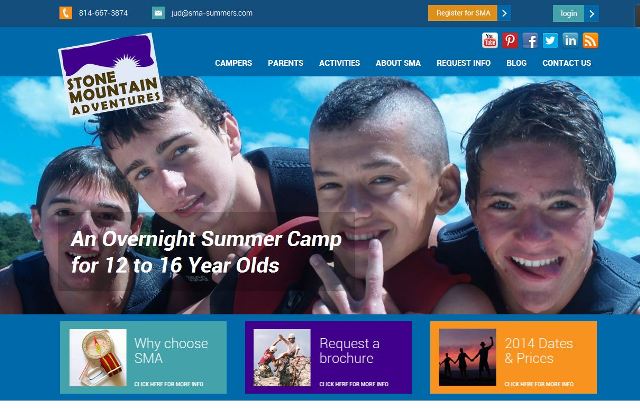 weather and lots of snow, which made for some great snowman making with Wyatt and Molly as well as incredible ski conditions. SMA also attended many "Summer Camp Fairs" in Boston, NYC, Connecticut, Philadelphia, and Washington, DC. It was exciting to chat with new prospective camp families about SMA non-competitive summer camp. The other highlight of these two months was a trip that I took to Manchester, England to attend a Camp America Staff Fair. We also Launched a new web site.
March and April of 2014 were a time of transition as a hard winter melted away and the renewal of spring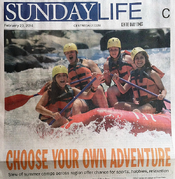 started to grown green at camp. In addition, SMA Wakeboarding Summer Camp was featured on the cover of Center Daily Times "Sunday Life" Section. In addition, we purchased a new wakeboarding boat for our Wakemasters Program at SMA Wakeboarding Teen Summer Camp. The new boat is a Supra Sunsport 24V and at 24 feet is perfect for wakeboarding, waterskiing, knee boarding, belly womping and wake surfing.
May and June of 2014 at SMA 2 Week Summer Camp was a time for final preparation for the summer. The big change in camp this year was that we lengthened our summer by one full week from seven to eight weeks. In the summer of 2014 we offered four, two week sessions and campers could opt to stay for two, four, six, or eight weeks. The highlight of May was the mountain biking festival at Raystown Lake called Dirtfest where we had a booth in the expo and hosted the SMA Kids and Teen Ride. June saw the arrival of our 2014 All Star Staff Team for 10 days of fantastic staff training capped off by the opening day of SMA 2 Week Teen Summer Camp on Sunday, June 22, 2014.
July and August 2014 were a whirlwind of the magic and craziness that is SMA Mountain Biking Summer Camp. From early morning staff meetings every day to crazy fun adventure activities (like mountain biking on the Allegrippis trails) to awesome watersports to meaningful service projects to camping overnights to creative arts to white water rafting. The summer of 2014 at SMA Mountain Biking Teen Summer Camp was one we will never forget.
September and October 2014 wrap-up the summer time at SMA Rock Climbing Summer Camp. We spent a lot of time and energy finishing the 2014 Camper and Staff Memory Books We also hosted a school group from a private middle school in Delaware called the NCCL School whose vision is "Small Classes, Big Ideas." This was the 4th year in a row they have been here and it is always a highlight of our fall. It's great to have the cabins full in the off season and hear noisy, happy kids in the Rhino Dining Hall.
November and December 2014 are a time to start preparing for the upcoming marketing season for SMA Horseback Riding Teen Summer Camp. I attended the Keystone ACA Summer Camp Conference which was held at the Bear Creek Mountain Resort and Conference Center. I attended a camp fair at the Scarsdale, NY High School. Other highlights includ finishing all of the Stone Mountain Adventures Session Slideshows. What are these slideshows all about? All session we took pictures of campers and staff on activities (horseback riding, white water rafting, wakeboarding, art studio, etc.), doing creative art activities, participating in evening activities (Jud Games, yea!) and hanging around camp with friends. We gather the best of these photos, add a summer soundtrack, and put together a slideshow that really captures the crazy, silly, amazing, magical moments of each session.
So, as this year draw to a close all of us here at Stone Mountain Adventures would like to express our deep gratitude to our camp families, campers and staff who have made this year so very special. Let the countdown to summer 2015 begin!